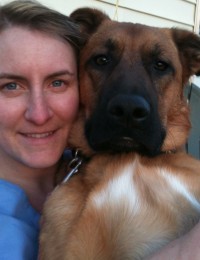 Dr. Whitney is currently on maternity leave.
Dr. Whitney has always felt a strong connection with animals, which provided a solid foundation for her studies at the Ontario Veterinary College, where she graduated in 2011. Coming from North Bay, Whitney decided to start her career in a rural Northern Ontario practice in New Liskeard, where she obtained 5 years of invaluable experience in small animal practice and emergency medicine. She even dabbled a little in large animal medicine, and will always have a soft spot for pigs.
Dr. Whitney has been a part of the team at Cambridge Veterinary Services since 2016. Her interests include dental care and preventative medicine, and she strives to become more proficient in ultrasound. She lives in Kitchener with her husband, and her crazy dog, Cinder, and two cats, Athena and Thor. When she isn't working, she loves crafting, finding new places to hike and explore, and playing soccer or downhill skiing.